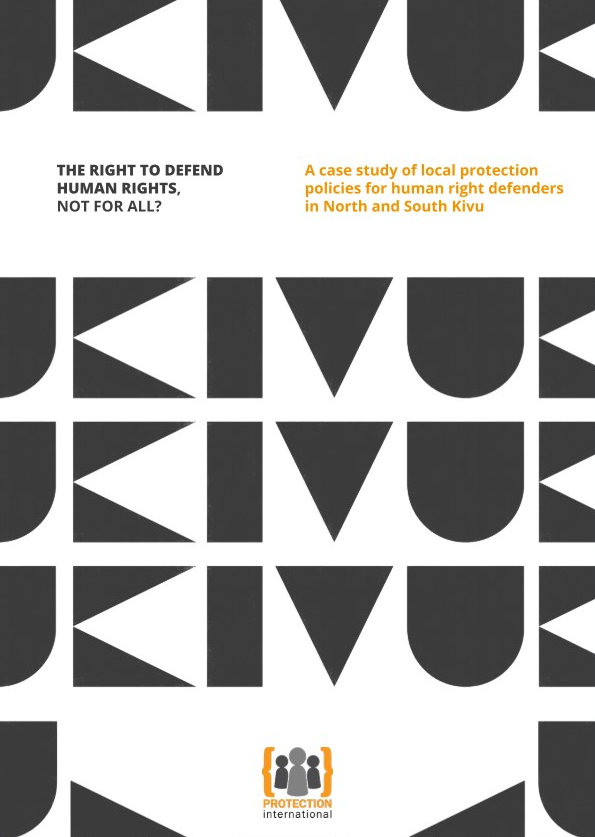 Megan Thomas
In the regions of North and South Kivu, in the Democratic Republic of the Congo (DRC), the protection of human rights defenders (HRDs) faces significant challenges due to structural constraints and active efforts by authorities to limit civic space. While the introduction of protective edicts offers hope, various obstacles hinder their full implementation.
It is with great pleasure that Protection International (PI) presents "The right to defend human rights, not for all? A case study of local protection policies for HRDs in North and South Kivu". The aim of this paper is to provide a sound basis for the analysis and improvement of protection policies for human rights defenders in the Democratic Republic of Congo (DRC). This starts with human rights defenders (HRDs) themselves. Based on extensive interviews with HRDs, this paper amplifies the voices of 23 HRDs interviewed for this study, and courageously shared their experiences and time. The publication provides an overview of their social and political context, sheds light on the risks they face and to calls upon authorities to take active steps towards a safe and enabling environment without fear of reprisals or retaliation.
Key Findings:
This publication provides an overview of structural challenges surrounding public policies, starting from the drafting process, to their dissemination and implementation for the effective protection of HRDs and their right to defend human rights.
Conflicts of Interest: Defenders, particularly environmental defenders, encounter significant limitations imposed by conflicts of interest, notably in the mining sector.
Social Norms and Stigma: This study found that marginalized groups of HRDs especially face challenges in claiming protection under the protection policies in North and South Kivu. This particularly concerns environmental defenders, women HRDs (WHRDs) and HRDs working on LGBTQIA+ rights. This dual restriction on their right to defend human rights hampers their efforts.
Structural Barriers: Practical barriers, such as limited accessibility and literacy, as well as cultural impediments, confine the utility of protective edicts to a relatively accepted and well-connected group of defenders. Those working in more isolated positions face greater challenges in benefiting from these measures.
Implications: Addressing these structural issues is essential to ensure that protective edicts benefit a broader spectrum of HRDs. Without comprehensive solutions, these measures risk only aiding well-connected defenders, leaving those in more precarious positions without effective protection. To create a more inclusive environment, concerted efforts are required to surmount these challenges.
The study proved that the struggle to protect HRDs in North and South Kivu is real, with obstacles stemming from conflicts of interest, social norms, and structural barriers. Overcoming these challenges is vital to make protective edicts accessible to all HRDs and enhance their effectiveness in safeguarding those who need it most. Therefore, based on our findings, we provided a list of recommendations to provincial authorities, national authorities and civil society actors and organisations.
This publication isn't confined to the pages; it's a call to action. Protection International is convinced that public policies are key to the creation of an enabling environment for HRDs and the right to defend human rights. However, public policies need to be carefully developed and implemented. Without concrete efforts from all actors involved, public policies will not suffice for the effective protection of HRDs. We therefore call upon authorities and civil society organisations to consider and disseminate our recommendations.
FOCUS Observatory
This study has been completed as part of our FOCUS Observatory for public policies on the protection of HRDs. You can find other publications and updates on https://focus-obs.org/. For questions, contributions or requests for collaboration, please write to focus@protectioninternational.org.
Protection International's commitment to the safety and agency of human rights defenders echoes through every word of this study. As we launch this publication, let it be a strong call for change and action, directly coming from the defenders who strive for justice against all odds. Join us in our mission for the effective protection of all HRDs.
As stated by our Executive Director Mae Ocampo and PI Africa Regional Board's Chairperson Nora Rehmer:
"We hope this paper serves as a comprehensive and forward-thinking resource, offering a deep understanding of the challenges faced by HRDs in the DRC in using protection policies in North and South Kivu. We also hope that the insights and recommendations included in this report will inspire local, provincial and national authorities to acknowledge and support the work of all HRDs, and take active steps towards their safety and protection."