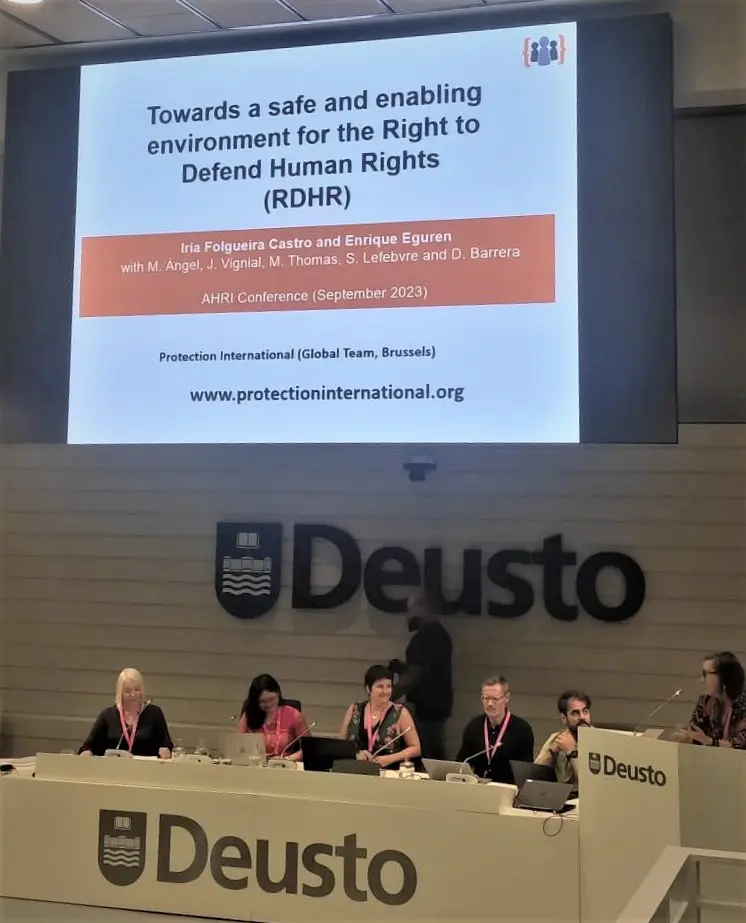 Protection International played an active role in the International Conference 2023 of the Association of Human Rights Institutions (AHRI), hosted by the University of Deusto. The event took place in the first week of September in Bilbao, Spain. Under the theme "Human Rights Defenders under Siege", the conference served as a critical platform for dialogue between human rights defenders and academia, where several of the main topics discussed by Protection International related to public protection policies and programmes, as explained below.
PI was invited to play a key role in shaping the conference themes and proposing a range of key speakers and human rights defenders (HRDs).
PI's Participation During the AHRI Conference and academic contributions
Several members of PI team participated in the conference as speakers. Alice Nah, Chairperson of PI's Board, delivered a keynote address during one of the plenary sessions, discussing the role of academia in the support of human rights defenders. She also participated to a panel on Enabling Environment, speaking about the importance of human rights defenders' psychosocial support, self-care and overall well-being.
PI team had the opportunity to present three scholarly papers during the conference, contributing to the robust exchange of ideas and strategies aimed at defending human rights globally:
Protection of human rights defenders as a complex political problem: implications on public policies, presented in the panel "Strategies to counter shrinking civic spaces".
A scoping review and key factors for building an enabling environment for the defence of human rights, as part of the panel "Strategies for building an enabling environment for HRDs".
How intersectionality can inform protection programs for HRDs: An overall view and itinerary proposed by Protection International, presented in the "Gender, intersectionality and HRDs" panel.
PI also participated in the Scientific Committee, working closely with professors of the Institute for Human Rights Pedro Arrupe at the University of Deusto.
The Conference hosted around 160 participants from different countries. We extend our gratitude to the Pedro Arrupe Human Rights Institute of the University of Deusto and to AHRI Network for their partnership, as well as to all the human rights defenders and civil society organisations and movements that participated and contributed to a fruitful exchange.
For more information on the conference, please visit AHRI Conference 2023.